Gåte
3-course fine dining experience including glass of MCC
Restaurant Week

3-course fine dining experience including glass of MCC

R500
Would you like to enjoy a culinary and unforgettable lunch during the Restaurant Week?
Gåte serves a 3-course fine dining experience including glass of MCC during Restaurant Week.
Don't miss this chance to discover Gåte and try their delicious lunch menu for only R500.
Please note: Seats are limited. Only online bookings will be accepted. Prepayment required, for your booking at Gåte a deposit of R300 is required to secure your booking.
Are there any dietary requirements? Please mention this on the reservation form so the restaurant can take this into account.
_____
Restaurant Week Menu:
_____
STARTER
Tomato Tomato Tomato
Selection of tomato varieties | pine nut crumb | belnori phantom forest
Vegan option available
Or
Cape Malay Pickled Fish
Oat & almond crumb | curried onion | radish
Or
Quail Liver Parfait
Brioche and pistachio crumb | fermented gooseberry | rocket pesto
_____
MAIN
Beet – Steak
Beetroot dauphinoise | baby beetroot | hazelnuts
Or
Langoustine
Sweet corn mielie pap | pancetta & sweet pea vierge | langoustine velouté
Or
Beef Fillet – served medium rare
Baobab labneh | mopane jus | baleni salt
Add Wagyu for R150
_____
DESSERT
Pineapple & Lime
Coconut sorbet | salted caramel | pineapple confit
Or
Not Your Ouma`s Milktart
Coconut shortbread | cinnamon curd | dehydrated cinnamon mousse
_____
3-Course Lunch Menu – R500
Prepayment required, for your booking at Gåte a deposit of R300 is required to secure your booking.
Reserve a table
Reserve a table
What 18 people say about Gåte
Write a review
---
"Beautiful experience but not enough food"
Not enough food! What we were given was excellent, but all 4 of us (two men, two women) left feeling hungry...
Hazel H
at Yesterday
Verified
---
"Amazing"
Everything was just amazing! Really a top class experience. We will be back.
Armand van der Spuy
at Yesterday
Verified
---
Very high quality of the food but the menu lacked one or two amuses. The wine prices in the restaurant of their own Quoin Rock high quality wines were nearly twice the cost of their sales office prices. Could be a litte bit more modest.
Peter Ladeur
at Yesterday
Verified
---
"Fine dining at it best"
Excellent well presented food.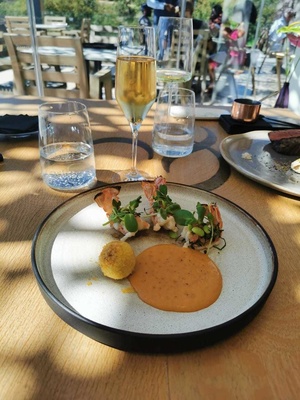 Leigh Stone
at 04 April 2021
Verified
---
"GATE: Restaurant Week"
Excellent experience! The manager and waitrons showed a keen interest in the customers and engaged very well with all. The food was out of this world! The flavours were just great! Food, service and the atmosphere was brilliant! Will definitely go again!! Thanks to the team!
Yolanda Malgas
at 04 November 2019
Quoin Rock Wine Estate, Knorhoek Road, Knorhoek Valley 7600 Stellenbosch
About Gåte
Welcome to Gåte, imagine a culinary adventure that circumnavigates the world, an adventure filled with surprises, one which captures your imagination and engages your senses. This is the promise of their Quoin Rock dining experience at their restaurant Gåte, pronounce gah-tey. But there is a playfulness to the name too. The Norwegian origin of the word translates as 'the entrance of a labyrinth' or a 'riddle' symbolising a gateway to an extraordinary dining experience and a delightful puzzle to be decoded.
Reserve a table
Reserve a table