RIVA
Wonderful Italian 5-course dinner menu
Restaurant Week

Wonderful Italian 5-course dinner menu

R350
Would you like to enjoy a culinary and affordable dinner during the Restaurant Week?
RIVA serves a wonderful Italian 5-course dinner menu during Restaurant Week.
Don't miss this chance to discover RIVA and try their delicious dinner menu for only R350.
Book your table now!
Please note: Seats are limited. Only online bookings will be accepted.
Are there any dietary requirements? Please mention this on the reservation form so the restaurant can take this into account.
_____
Restaurant Week Menu
_____
APERITIVO
Fish Ball
Deep fried fish Ball on the bisque
_____
ANTIPASTI
Carpaccio
Fish of the day with red onion, capers, extra virgin olive oil and parsley
______
PRIMI
Prawns
Prawns flambèe with homemade paprika mayo
OR
Pappardelle Arrabbiata
Slow cooked Napoli chilli sauce
______
SECONDI
Paccheri
Homemade freshly pasta with cherry tomatoes, prawns mussels and calamari
OR
Market Fish
Cooked at the "Italian way"
______
DOLCE
Tiramisù
RIVA's Homemade Tiramisù
OR
Paw Paw Sorbet
RIVA's Paw Paw Sorbet
______
Wonderful Italian 5-course dinner menu - R350
Reserve a table
Reserve a table
What 18 people say about RIVA
100% of the guests recommend this restaurant.
Write a review
---
"Italian Feast"
What a delightful evening at Riva's. The restaurant is a sneak peak into the streets of Italy. We would highly recommend the restaurant week menu. We had the prawns, pasta and tiramisu. Delizioso! Friendly service - thank you Tee for an engaging experience.
Nicola Maarschalk
at 21 October 2021
Verified
---
amazing food. drinks list and knowledge could do with a little bit of training and building but it didnt detract from a great evening.
Daniel van Diermen
at 21 October 2021
Verified
---
Excellent menu, wonderful atmosphere and great service... and the chef is very charming.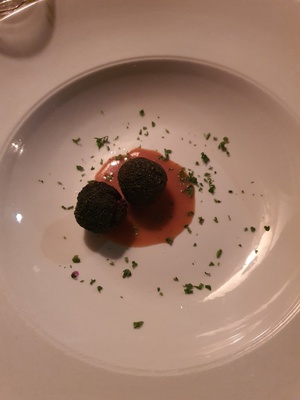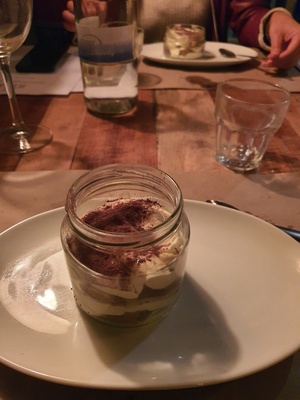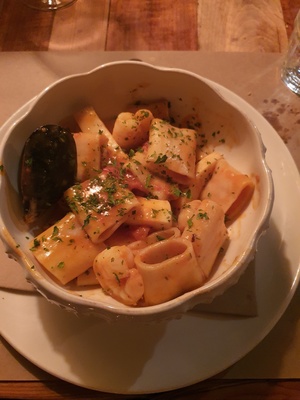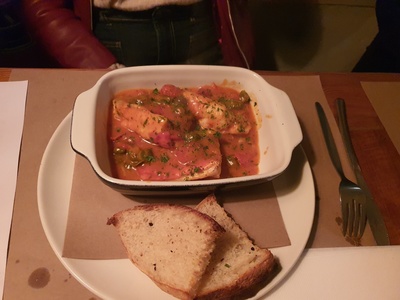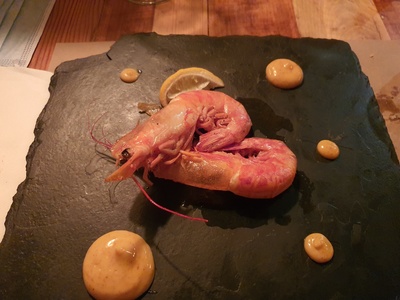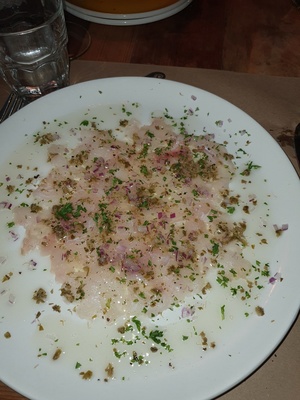 Shafia Mahomed
at 17 October 2021
Verified
---
"Stellar experience "
I felt at home and deliciously spoiled, as all the staff were attentive and took pride in all they presented. They aim to please, and that I was. The food was tasty and satisfying, and there was no fault to their impeccable service. This will be my new haunt!
Shahieda
at 17 October 2021
---
"Great experience!"
We had such a great time at Riva! The food was gorgeous, service exceptional which is very hard to find and the evening was a beautiful all together. The fact that the owners/chefs walks around to each table lends for a very personal, intimate experience. I will definitely be back!
Malikah Abdullah
at 17 October 2021
Verified
24/4 Napier St, De Waterkant 8001 Cape Town
About RIVA
Cuisine: Italian
Childhood friends Nicoló Rovarini and Federico Rocca grew up on the shores of Lake Maggiore in Italy. Their resulting love of seafood is now being translated for a South African audience in De Waterkant.
Food

If you're expecting Italian classics, think again. Kick off with a carpaccio (the fish changes daily), sliced and served with coconut flakes, olive oil and kiwi fruit. It's an unusual pairing, and the flavours don't quite meld. Saldanha Bay mussels – marinated in olive oil until wonderfully tender – served on a crispy fried piece of polenta, are a safer bet. Pasta is made in-house, and the bronze drawn spaghetti, served with cherry tomatoes and clams is perfectly al dente. Squid ink gnocchi with prawns comes laced with vibrant threads of saffron, which lend a unique flavour to the dish. If you've space for secondi, there's the option of a vast platter, a smaller platter of fried hake, calamari and bait fish, or the Abalobi catch of the day. For dessert, there's a wonderfully chewy, almost creamy lemon sorbet, and a very good tiramisu.
Ambience

The restaurant takes its name from the legendary boat building company, Riva, who make the kind of wood-clad speedboat that James Bond would pilot. The white walls are cleverly decorated with broad blue stripes, a clutch of black-and-white photos and a little boat-themed brick-a-brack. Above, the light bulbs dangle from thick rope. All-in-all, the feeling is of a relaxed seafood trattoria, with lights just dim enough for it to feel romantic.
Reserve a table
Reserve a table