FYN Restaurant
4-course fine-dining lunch menu
Restaurant Week

4-course fine-dining lunch menu

R495
Would you like to enjoy an unforgettable and culinary lunch during the Restaurant Week?
FYN Restaurant serves a 4-course fine-dining lunch menu during Restaurant Week.
Don't miss this chance to discover FYN Restaurant and try their delicious lunch menu for only R495.
Book your table now!
Please note: Seats are limited. Only online bookings will be accepted.
Are there any dietary requirements? Please mention this on the reservation form so the restaurant can take this into account.
_____
Restaurant Week Lunch Menu:
Canapés
Daikon & Cabbage maki | ponzu gel
Tempura dune spinach | chiri-zu sauce
_____
Hokkaido milk bun
_____
Starters
Game fish tataki | Kochi yuzu & aged shoyu | wasabi | onigiri | tsukemono
_____
Tonkotsu ramen | Iberico pork chashu | menema fillet | quail ajitama | chilli oil
_____
Mains
Sustainable fish | karaage crayfish | kelp & roasted lemon risotto | yuzu beurre blanc
_____
Free range Kalahari beef fillet | globe artichoke | asparagus| Shiitake puree | sweetbreads | ponzu braised onions
_____
Desserts
Kasutera | umeboschi | strawberry ice cream | sweet furikake
_____
Almond catalan | chocolate finanicier | lemon & rooibos
_____
4-course fine-dining lunch menu - R495
Reserve a table
Reserve a table
What 55 people say about FYN Restaurant
98% of the guests recommend this restaurant.
Write a review
---
Loved the experience, stunning decor at the restaurant. Food was really nice, but I've experienced better flavour combinations at other fine dining restaurants in cape town. The mushroom brûlée and dessert were standouts. Won't go back but glad I went.
Nina Nel
at Today
Verified
---
"Absolutely wonderful "
The quality of ingredients and their marriage together to create sublime flavours - Fyn is a gem in the city!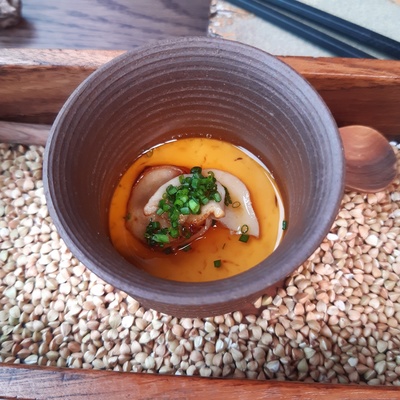 Lucy Paddy
at Today
Verified
---
Excellent meal with lots of finesse
Will definitely be back
Mahomed
at Yesterday
Verified
---
"A MUST FOODIE EXPERIENCE!!!"
Fabulous service. Amazing dishes all perfectly executed! Every dish is a masterpiece! Fabulous atmosphere. Will definitely be back. Deserve their spot in the top 100 restaurants in the world!
Emsie Rheeders
at Yesterday
Verified
---
Loved it!
Heidi van Bergen
at 15 October 2021
Verified
5th Floor, Speakers Corner, 37 Parliament St, Cape Town City Centre 8001 Cape Town
About FYN Restaurant
Cuisine: Fine Dining
A JOURNEY TO SOMEWHERE
DISCOVERIES ARE MADE WHEN BOUNDARIES ARE CROSSED. AT FYN, SOUTH AFRICA'S WILD FREEDOM IS TEMPERED BY THE RIGOURS OF CONTEMPORARY CUISINE TO CREATE A RESTAURANT AT THE EDGE. CHECK YOUR ASSUMPTIONS WITH YOUR COATS AND JOIN US ON A JOURNEY OF FLAVOUR DISCOVERY.
BLURRED LINES
FYN'S DESIGN CHALLENGES THE SEPARATION OF KITCHEN AND DINING ROOM, SO EACH BECOME PART OF THE OTHER. WE BELIEVE IN COMFORT OVER FORMALITY, COLLABORATION OVER INDIVIDUAL FEATS, AND ITS DEPTH, COMPLEXITY AND DELICIOUSNESS LEAD THE WAY.
MAGIC MAKERS
PETER TEMPELHOFF, ASHLEY MOSS AND JENNIFER HUGÉ ARE FYN'S LEAD EXPLORERS. PETER IS THE VISIONARY, TURNING THIS DREAM INTO REALITY WITH 22 YEARS OF EXPERIENCE; ASH BRINGS TATTOOS AND GRUNT; AND JENNIFER MARSHALS THE TROOPS TO DELIVER SERVICE THE WAY THE FRENCH INTENDED. FEARLESS, INQUISITIVE AND DEMANDING, THEY PROMISE TO TAKE YOU SOMEWHERE NEW.
PARKING NOTE
PLEASE NOTE THAT PARKING IN THE AREA IS LIMITED. FYN RESTAURANT DOES NOT OFFER PARKING AND SUGGEST USING A TAXI SERVICE
Reserve a table
Reserve a table