The Marabi Club
Superb 4-course dinner menu
Restaurant Week

Superb 4-course dinner menu

R400
Would you like to enjoy a culinary and unforgettable dinner during the Restaurant Week?
The Marabi Club serves a superb 4-course dinner menu during Restaurant Week.
Don't miss this chance to discover The Marabi Club and try their delicious dinner menu for only R400.
Please note: Seats are limited. Only online bookings will be accepted.
Are there any dietary requirements? Please mention this on the reservation form so the restaurant can take this into account.
_____
Restaurant Week Menu:
_____
APPETISER SHARING PLATES
Flammekueche
French pizza "Bianca" with crème fraiche & truffle oil
Vegetable & Cheese Arancini
Tuscan vegetable & buffalo mozzarella cheese Arancini
_____
STARTER TO SHARE
Broccolini Satay
Charred broccolini "Satay", roasted peanuts, lime & chilli oil
_____
MAIN PLATES
Portuguese Chicken
Portuguese BBQ, marinated chicken thigh, fire roasted onion & cabbage & Joloff rice
Or
Wagyu Steak
Wagyu beef steak, potato fondant, peppers, spinach & pinotage jus
Or
Sea Bass
Pan fried sea bass, tomato-chilli salsa, pilaf rice & champagne cream
_____
SOMETHING SWEET
Ivory Chocolat Marquis
Ivory Chocolat Marquis, "Mont Blanc" hazelnut, chocolate soil
_____
Superb 4-course dinner menu – R400
Reserve a table
Reserve a table
What 12 people say about The Marabi Club
100% of the guests recommend this restaurant.
Write a review
---
Incredible food!
Vicky
at 18 October 2021
Verified
---
Very good ambience
Wanda Ndabambi
at 17 October 2021
Verified
---
Perfect little hidden gem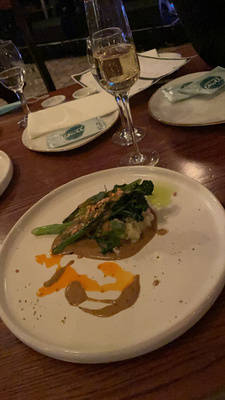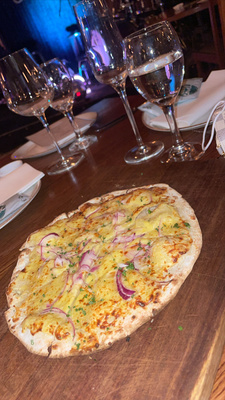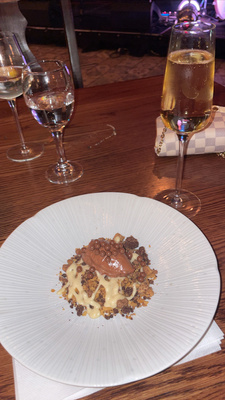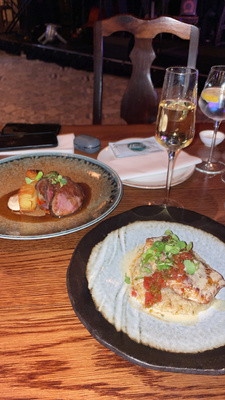 Tsholo Phooko
at 16 October 2021
Verified
---
Marvelous experience!
Annette Myburgh
at 10 October 2021
Verified
---
Food was good except the dessert. The service was great.
Boitumelo Mohalane
at 09 October 2021
Verified
47 Sivewright Ave, New Doornfontein 2094 Johannesburg
About The Marabi Club
The Marabi Club is the home of superb food and drink accompanied by fine live jazz performances. Visible from the street only by the discreet black canopy above a small metal door in Doornfontein, downtown Johannesburg, the Marabi Club harks back to a vibrant history.
New York gave the world the Harlem Rennaisance, a flourishing black cultural and intellectual movement that saw an outpouring of artistic, literary and musical talent. Across the ocean Johannesburg's Doornfontein's slumyards, created in the wake of one of the world's richest gold rushes, gave life to Marabi. It was a lifestyle prompted by the need to escape the hardships of the working week in the 1920s and 1930s, defined by illegal shebeens, where fierce talk of politics was accompanied by the equally disruptive soundtrack of jazz.
Today the Marabi Club, tucked into the basement of award-winning British-Ghanaian architect David Adjaye's Hallmark House, also a boutique hotel, evokes this history through the many careful details of the club's interior. Add excellent food, a long bar, jauntily dressed wait staff offering friendly and slick service, and live jazz and you'll get why most people who visit this Maboneng landmark remark on the electric atmosphere.
We, however, recommend you don't just believe them. Come and try if for yourself… the night awaits.
Reserve a table
Reserve a table