Emazulwini Restaurant
Amazing 6-course set menu
Restaurant Week

Amazing 6-course set menu

R300
Would you like to enjoy a culinary and affordable dinner during the Restaurant Week?
Emazulwini Restaurant serves an amazing 6-course set menu during Restaurant Week.
Don't miss this chance to discover Emazulwini Restaurant and try their delicious dinner menu for only R300.
Book your table now!
Please note: Seats are limited. Only online bookings will be accepted.
Are there any dietary requirements? Please mention this on the reservation form so the restaurant can take this into account.
Restaurant Week Menu
Small Plates
_____
First Set
_____
Umbila
Mealie custard, roasted mealies, mealie bread and herb emulsion

Ulimi noshatini
Corned Ox tongue with cooked tomato puree, salsa jellies, amasi, fresh tomatoes, julienned chilies and crispy onions

Igwinya nopholoni
Vetkoek, homemade chicken polony, cheese catalan and roasted parmesan.
_____
Second Set
_____
Umleqwa nesigwamba
Free range chicken with spinach and maize croquette, free range egg and dirty chicken sauce.

Izingingila
Deep fried chicken gizzards, spiced amasi and tomato relish

Inyama, Imfino nezinhamvu zombila
Slow cooked beef rib, with braised spinach leaves and grain salad
_____
6-Course Set Menu - R300
Reserve a table
Reserve a table
What 2 people say about Emazulwini Restaurant
Write a review
---
"A South African Treat"
South African delicacy meets fine dining. Definitely a treat.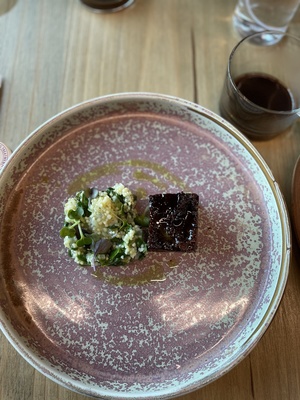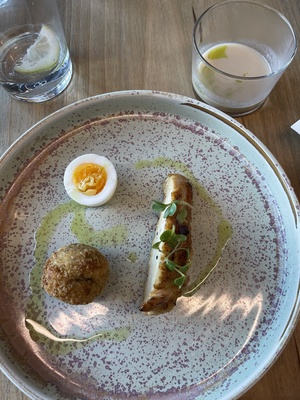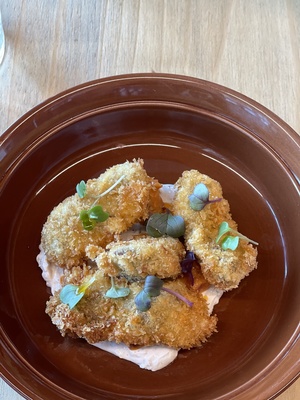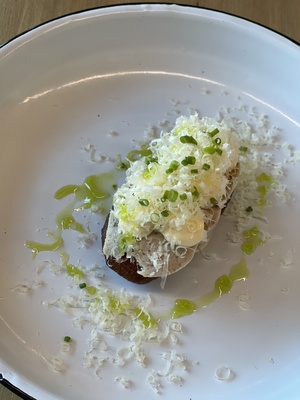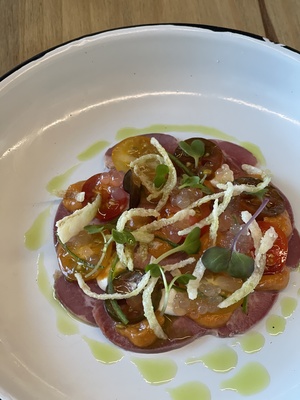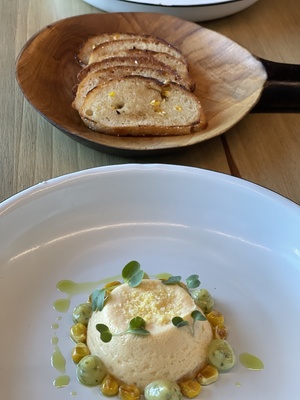 Linda
at Yesterday
Verified
---
"New favourite discovery "
I really loved this experience. The food was marvellous - comforting and familiar yet with a flare of something so unique. We really loved every bite. These ladies are so talented and really showcased what South African cuisine is about.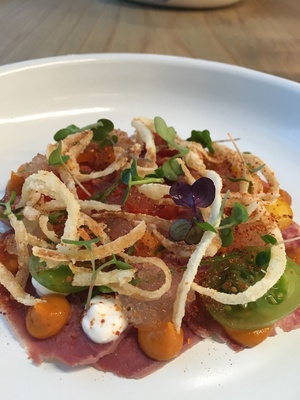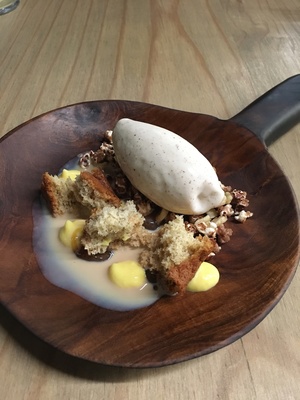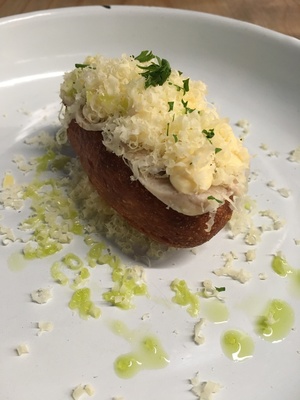 Bianca Forlee
at Yesterday
Verified
Makers Landing The Cruise Terminal, Victoria & Alfred Waterfront 8001 Cape Town
About Emazulwini Restaurant
Emazulwini is a modern Zulu inspired restaurant which seeks to celebrate and showcase Nguni cuisine and South African ingredients.
Mmabatho Molefe runs the tiny harbour-facing restaurant called Emazulwini. Molefe was retrenched from Salsify At The Roundhouse during lockdown. With previous experience at Aubergine, she has used her skills to present traditional Zulu cuisine in a fine dining context. With her breakthrough restaurant Emazulwini (meaning 'heaven' in Zulu), she's introducing Zulu dishes in completely unexpected ways to Makers Landing.
This inspired Mmabatho to reflect on her own Zulu upbringing in KwaZulu-Natal, and experiment with recipes that could represent the food she was raised eating, but with modern techniques and novel ways of presentation. The intimate space at Emazulwini affords diners the opportunity to taste dishes such as ox tongue in different preparations of tomato, isijingi (a sweet pumpkin porridge with orange caramel, roasted pumpkin and cinnamon), and an amasi (sour milk) dessert made with uphuthu (pap) and whey caramel.
"I want people to let go of their previous apprehensions, try new things, and hopefully change their minds about these Zulu-inspired dishes," she says. Although cooking and serving cultural foods differently to how they are traditionally done, she has ensured that the flavours remain true to the original. "Usually Zulu cuisine is slow-cooked and braised, and all the flavour gets left in the liquid," she says, "so I'm just preparing it slightly differently. It doesn't have to be brown, heavy food. I'm adding fresh components, so that people are more inclined to try it."
By delving into Zulu history and traditions in her quest to honour her heritage, Mmabatho is sharing her culture through the art of cooking, creating a contemporary appreciation for Zulu cuisine .
Reserve a table
Reserve a table