Greenhouse
5-course African Modern tasting menu
Restaurant Week

5-course African Modern tasting menu

R650
Would you like to enjoy an unforgettable and culinary dinner during the Restaurant Week?
Greenhouse serves a 5-course African Modern tasting menu during Restaurant Week.
Don't miss this chance to discover Greenhouse and try their delicious dinner menu for only R650.
Book your table now!
Please note: Seats are limited. Only online bookings will be accepted.
Are there any dietary requirements? Please mention this on the reservation form so the restaurant can take this into account.
_____
Restaurant Week Tasting Menu:
_____
veldt brood
baby bread loaf, flat bread, red peppers, shallots, green oil
_____
greenhouse snacks
king kone, fish & chips, steak & eggs
marvelous white blend 2015
_____
nguni
beef, beurre noisette, carrots, chilli
spioenkoep pinotage 2018
_____
changu
hake, mussels, apple, cashew, fennel
the fledge chardonnay 2017
_____
suigstokkie
blueberry, cherry, yoghurt
_____
oodhingu
springbok, turnips, pistachio, XO, hibiscus
saxenburg merlot 2008
_____
constantia honeycomb
raspberry, amasi, chocolate, hazelnut
thelema muscat 2019
_____
tree of life
rolos, jub jub, caneles
_____
R650 Tasting Menu
R440 Wine Pairing
Reserve a table
Reserve a table
What 95 people say about Greenhouse
95% of the guests recommend this restaurant.
Write a review
---
Excellent all round and they deserve to be on the World's Best Restaurant List. Very innovative and beautifully presented cuisine. Staff are very well trained and enthusiastic to make the experience very special.
Margarita
at Yesterday
Verified
---
Good food but definitely some lockdown rust in terms of service and attention to detail
Salvin Naidoo
at Yesterday
Verified
---
"Just awesome"
The Greenhouse deserves one if not two Michelin stars. That says it all!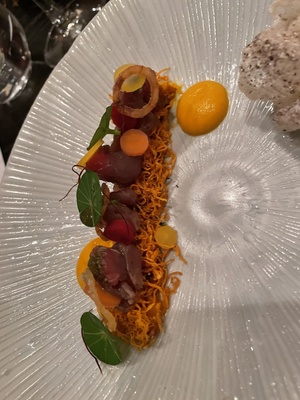 Nanci
at Yesterday
Verified
---
"Best experience on this round of RW"
Highly recommend, ticks all the boxes.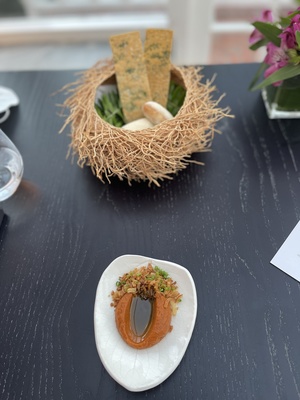 Linda Ngcwangu
at 08 October 2021
Verified
---
"AMAZING"
Outstanding meal. The take on the African menu blew us away.
Tara Louw
at 07 October 2021
Verified
The Cellars-Hohenort Hotel, 93 Brommelsvlei Road, Constantia 7800 Cape Town
About Greenhouse
Cuisine: Fine Dining
Conserving ingredient and foraging sustainably, the earth's top soil is where everything grows. Hyper local plants and ingredients. Foraging on the beach for coastal plants. Food that tell stories, preserving local culture and history.
Chef Farrel Hirsch
I love finding new 'foreign' flavours and combinations that I'd never imagined would go well together. It's not just about coming in for dinner at Greenhouse, it's about the experience and how you feel during the meal and well after you leave the dinner table.
Accolades & Awards
3-Plate Award by the JHP Gourmet Guide™ 2020
World Luxury Restaurant Awards – African Cuisine Global Winner 2020
Haute Grandeur Global Awards – Excellence Award, Best African Cuisine on a Global level 2020
Haute Grandeur Global Awards – Excellence Award, Best South African Cuisine in South Africa 2020
Haute Grandeur Global Awards – Excellence Award, Best Wine Selection in South Africa 2020
TripAdvisor Travellers' Choice Award 2020
Featured on 50 BEST DISCOVERY by The World's 50 Best Restaurants, 2019
Eat Out Mercedes-Benz Restaurant Awards – Greenhouse rated no 15 in South Africa, 2019
Restaurant Week, Spring Edition, Best Restaurant in Cape Town, 2019
3-Plate Award by the JHP Gourmet Guide™ 2019
American Express® Platinum Fine Dining Restaurants Awards 2019
Haute Grandeur Global Awards – Excellence Award, Best Fine Dining Cuisine in Africa 2019
Haute Grandeur Global Awards – Excellence Award, Best South African Cuisine in Africa 2019
Haute Grandeur Global Awards – Excellence Award, Best Wine Selection in South Africa 2019
Clash of the Chefs, Cook Off Winner, Chef Farrel Hirsch, 2019
Restaurant Week, Winter Edition, Best Restaurant in Cape Town, 2019
TripAdvisor Certificate of Excellence 2019
Reserve a table
Reserve a table