Delaire Graff
Culinary 3-course set lunch menu
Restaurant Week

Culinary 3-course set lunch menu

R550
Would you like to enjoy a culinary and unforgettable lunch during the Restaurant Week?
Delaire Graff serves a culinary 3-course set lunch menu during Restaurant Week.
Don't miss this chance to discover Delaire Graff and try their delicious lunch menu for only R550.
Book your table now!
Please note: Seats are limited. Only online bookings will be accepted.
Are there any dietary requirements? Please mention this on the reservation form so the restaurant can take this into account.
_____
Restaurant Week Set Menu:
Delaire Graff Wine pairing R350 per person
Please note that the below menu is a sample menu as their menu is seasonal and subject to change
_____
APPETIZERS
Belnori Chevin
garden beet | fennel chutney | walnut
Delaire Graff Saivignon Blanc 2020
Or
Leek Ash Carpaccio
apple | onion | jerusalem artichoke | nasturtium
Delaire Graff Summercourt Chardonnay 2019
Or
East Coast Pink Prawn
burnt bisque chip | apple | passion fruit
Delaire Graff Coastal Cuvée 2020
_____
Main Course
Bonsmara Beef Fillet
potato gratin | mushroom | pickled shimeji | baby leek | bone marrow jus
Delaire Graff Botmaskop 2018
Or
Spring Squash Tortellini
garden legumes | pickled shimeji | porcini butter
Delaire Graff Banghoek Chardonnay 2019
Or
Josper Fired Pork Belly
african rose plum | heirloom beetroot | sweet potato | ginger jus
Delaire Graff Shiraz 2019
_____
Dessert
Single Origin Madagascan Bitter Chocolate
banana | medjool date | macadamia
Delaire Graff Cape Vintage 2017
Or
Pumpkin Pie
naartjie | ginger | vanilla chantilly
Delaire Graff Sunburst NLH 2015
_____
A discretionary R20 donation has been added in support of the facet foundation.
Please speak to your waiter for more information or if you wish to forgo.
_____
3-Course Set Lunch Menu – R550
Delaire Graff Wine pairing R350 per person
Reserve a table
Reserve a table
What 23 people say about Delaire Graff
100% of the guests recommend this restaurant.
Write a review
---
We had a wonderful experience at Delaire Graff and enjoyed a beautiful day. Excellent food and service! Highly recommend!
Magda Burger
at 14 October 2021
Verified
---
A perfect treat in every way!
Doro
at 14 October 2021
Verified
---
The atmosphere is great with extremely beautiful works of art. Service was exceptional with the servers presenting the food and wine with love. My only critique is that the mussels in my starter could have had more flavour, the sauce was a little underwhelming. My fillet melted in my mouth and dessert was a chocolate yumminies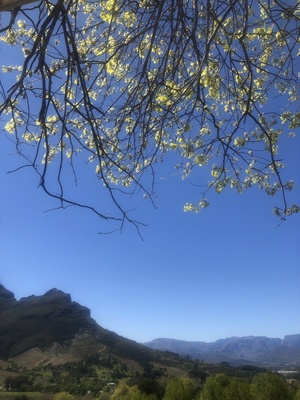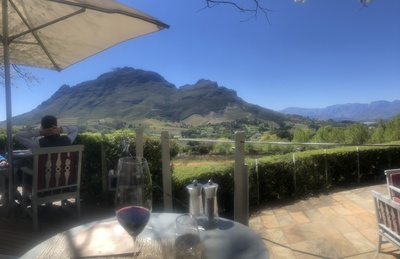 Nicola Van der Merwe
at 12 October 2021
Verified
---
Had a great Saturday lunch out at Delaire Graff, superb!
Sunette Swart
at 11 October 2021
Verified
---
Absolutely amazing meal
Matthew M'Crystal
at 10 October 2021
Verified
Delaire Graff Estate 7600 Stellenbosch
About Delaire Graff
The Delaire Graff Restaurant
Delaire Graff Restaurant is a year-round culinary destination in the Cape Winelands. Savour impeccably plated, creative bistro favourites with a South African touch paired with peerless wines in a breathtakingly beautiful setting.
Dine Al Fresco
Shaded by ancient oak trees, the broad, wooden terrace at Delaire Graff Restaurant embraces sweeping views of vineyards and olive groves from Simonsberg Peak across the Banghoek Valley.
Take a Seat
Surrounded by art from Laurence Graff's personal collection, leather banquettes curve between a marble fireplace and statement wine bar, with floor-to-ceiling glass doors framing the captivating views.
Reserve a table
Reserve a table