Haute Cabrière
Classic French 2-course lunch including glass of wine
Restaurant Week

Classic French 2-course lunch including glass of wine

R245
Would you like to enjoy a culinary and affordable lunch during the Restaurant Week?
Haute Cabrière serves a classic French 2-course lunch including a glass of wine during Restaurant Week.
Don't miss this chance to discover Haute Cabrière and try their delicious lunch menu for only R245.
Please note: Seats are limited. Only online bookings will be accepted.
Are there any dietary requirements? Please mention this on the reservation form so the restaurant can take this into account.
_____
Restaurant Week Menu:
Please note that the below menu is an example menu
_____
Mains
Wagyu beef brisket risotto, aromatic broth & charred greens
Recommended wine | Haute Cabrière Arnim Family Réserve 2018
Or
Roasted wild mushrooms, butter bean mash, sweet-poached leeks with miso-glazed onions (V)
Recommended wine | Haute Cabrière Pinot Noir Unwooded 2020 (Served chilled)
Or
Pan-fried hake, harissa beurre blanc, baba ghanoush & roasted chickpeas
Recommended wine | Haute Cabrière Chardonnay Unwooded 2020 (new)
Or
Free-range chicken en crepinette, barley & courgette, sweet honey, mustard & dill sauce
Recommended wine | Haute Cabrière Chardonnay | Pinot Noir 2019
_____
Desserts
Pecan nut pie, treacle ice-cream
Or
Banana & rum crème brûlée
Or
Whipped blue brie, cinnamon cookie crumbs & green fig preserve
_____
A choice between 1 main course & 1 dessert at R 245 per person, including a glass of recommended wine, excluding service charge and other beverages.
Reserve a table
Reserve a table
What 79 people say about Haute Cabrière
95% of the guests recommend this restaurant.
Write a review
---
"2 course lunch 16/10"
Stunning lunch, the best duck we ever had, quick and very good service, and last but not least....the wine...... Arnim Family Reserve...yummy, yummy
Happy Guest
at Today
Verified
---
OMG, the food was amazing, service was out of this world.
Had the pleasure of meeting Takuan who allowed me to taste his fine and premium collections. Had such an amazing time.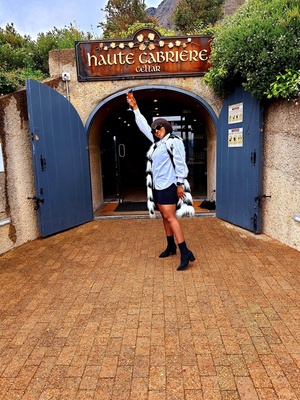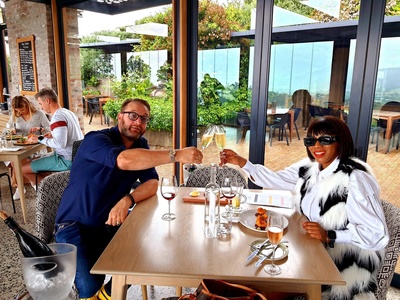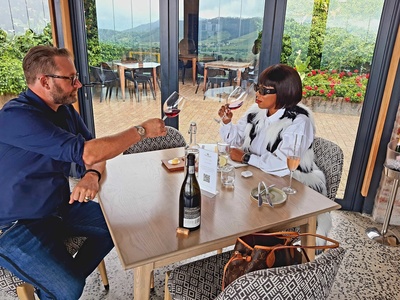 Phumla
at 15 October 2021
Verified
---
"It's good but could be better "
I really enjoy having a culinary experience/journey at restaurant week - tell me more about the food and wine I'm about to have. Service & menu could be better. Nevertheless, the food was okay & the place is beautiful.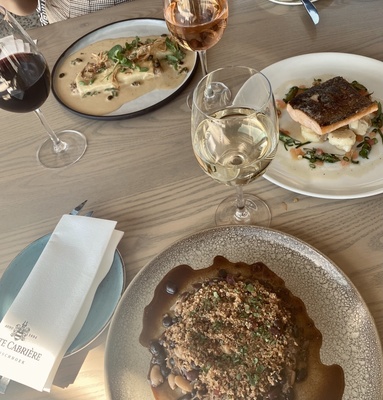 Kelly likes to eat!
at 12 October 2021
Verified
---
"Lunch "
Sadly the meal (lamb caneloni) was cold and visually not very pleasing.
The creme brulee was delicous, but the pear and nougat fairly tasteless.
The champagne was recommended, but not pointed out that it was not part of the free glass of wine option.

Jeni
at 11 October 2021
Verified
---
The staff were friendly and welcoming. They were very accommodating and kind. They really care about their staff and customers. The food is really good and tasty. The view is incredible and the wine and MCC is delicious. Give the Ratafia fortified Chardonnay a shot. We enjoyed our overall experience. Would defeninitly recommend the MCC sabreeing!!!!
Riani Allenby
at 08 October 2021
Verified
Lambrechts Road (pass road) 7690 Franschhoek
About Haute Cabrière
Cuisine: French
With arguably the best view overlooking the Franschhoek Wine Valley, dining with us at Haute Cabrière is as beautiful as it is delicious.
As with our approach to wine, our food philosophy centres on moments to be enjoyed together. We believe that coming together around the table, as family always has, is a celebration of life, stories, togetherness and of course, wonderful food and wine. Join us as part of our family and eat, drink and chat on our sun-soaked restaurant terrace in Franschhoek. Our menus are inspired by classic French dishes with a twist – combining local ingredients and the von Arnim family's love of innovation.
Reserve a table
Reserve a table