Jardine Restaurant
Contemporary 3-course set menu
Restaurant Week

Contemporary 3-course set menu

R300
Would you like to enjoy a culinary and affordable lunch or dinner during the Restaurant Week?
Jardine Restaurant serves a contemporary 3-course set menu during Restaurant Week.
Don't miss this chance to discover Jardine Restaurant and try their delicious lunch and dinner menu for only R300.
Please note: Seats are limited. Only online bookings will be accepted.
Are there any dietary requirements? Please mention this on the reservation form so the restaurant can take this into account.
_____
Restaurant Week Menu:
Please note that the below menu is a sample menu
_____
Starters
Saldanha Bay mussels
old school papilotte with coconut milk, aromatics, coriander, lime and chili
Or
Stuffed and Grilled New Season Figs
pumpkin seed pesto and gorgonzola mousse
_____
Mains
Pan Roasted East Coast Hake
macerated tomato, anchovy dressing, roasted cauliflower and garlic puree
Or
Aged Chalmar Sirloin
soy glazed aubergine, roast cherry tomato and creamed spinach
_____
Desserts
Valrhona Equatoriale Chocolate
hot pot with vanilla bean ice cream
Or
Vanilla Panna Cotta
with poached Blue Jay Nectarine and nectarine sorbet
_____
3-Course Set Menu – R300
Reserve a table
Reserve a table
What 52 people say about Jardine Restaurant
Write a review
---
Great evening! Delicious food! Will go back again.
Nadia Opperman
at Yesterday
Verified
---
"always good"
All food was good, only my fish was to long in the pan
Marion
at Yesterday
Verified
---
"Lunch under the trees"
Lovely 3 course lunch. Can really recommend it.
LindsayF
at Yesterday
Verified
---
"Fantastic "
Attentive staff and excellent food. Recommend Jardine for sure.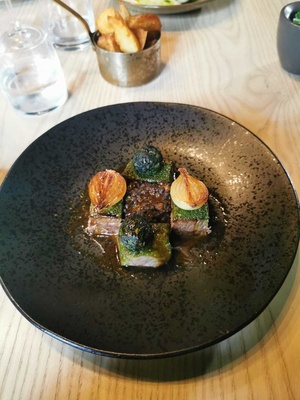 Leigh Stone
at Yesterday
Verified
---
Excellent!!
TdV
at Yesterday
Verified
1 Andringa St, Stellenbosch Central 7600 Stellenbosch
About Jardine Restaurant
Jardine Restaurant

George Jardine's relaxed contemporary restaurant in the heart of Stellenbosch. Over the last two decades, George Jardine, frequent winner of a coveted place in the Eat Out Top Ten, has earned his spurs as one of the top chefs in the country. Commuting between his new venture in Stellenbosch and his destination restaurant at Jordan wine estate, his creative energy is boundless. A focus on seasonal flavours showcases local, organic produce on a changing menu, which tempts with sublime combinations. 
Reserve a table
Reserve a table